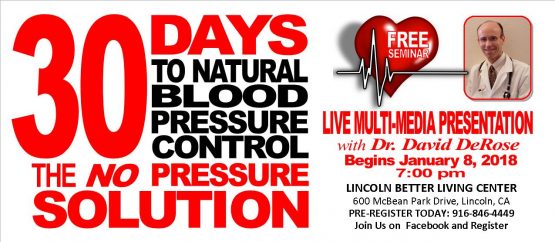 David DeRose, MD, MPH has been heard on more than 140 radio stations. He is a syndicated radio host and practicing physician. Dr. David DeRose has been helping people address disease processes with natural therapies. DeRose has a commitment to educating the public in Preventative Medicine with an emphasis in Health Promotion and Health Education. DeRose is board-certified specialist in both Internal Medicine and holds a Master's Degree in Public Health.
"Hypertension is a serious, often silent health hazard. If you have uncontrolled high blood pressure, you stand a reasonable chance of bringing that blood pressure under control without the use of more medications."  30 Days to Natural Blood Pressure Control, pg. 29
Even if you haven't received the diagnosis yet, as many as three-quarters of the Western world will have to contend with high blood pressure at some point in their lives. However, you no longer need to be a victim.
Weekly seminar will be held on Mondays at 7 p.m.,  January 8-February 26, at the Lincoln Better Living Center at 600 McBean Park Drive, Lincoln, CA.
Multi-Media Presentation Topics 
Lower Hypertension Naturally
Take Charge of Your Blood Pressure Naturally
Changing Bad Habits for Good
Reversing Hypertension Naturally
Listening to the Buffalo
Spiritual Health: Neglected Dimensions
Free Seminar - Workbook $12
Children's program for children under age 12.
Fill out the form below or call 916-846-4449 to pre-register and reserve your space.