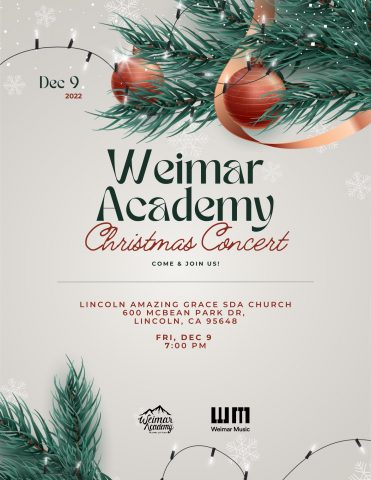 Sacred Christmas Concert with Weimar Academy Choir
You won't want to miss this special Christmas concert! You'll enjoy sacred choir, orchestra and handbell choirs. Refreshments following. Come start the Christmas season with Jesus!
December 9 at 7 p.m.
600 McBean Park Drive, Lincoln
Worship with Us
We would love to have you join us for church at 600 McBean Park Drive. We meet at 9:30 a.m. Saturday mornings for church. Sabbath School classes meet at 11 a.m.
If you can't join us in person, you can watch the live-stream of our service on our Facebook page at 9:30 a.m. Saturday morning. www.facebook.com/lincolnadventist
Learn about how we are working with the Afghan refugees in our community and how you can get involved. More information here.
Weekly Events
Food Giveaway - Every Monday from 12-2 at the church at 600 McBean Park Drive. Please line up along the side of the road by the church. You will be registered while waiting in line beginning at 12 noon. Food will be brought out to your car beginning at 1 p.m. 
Prayer Meeting - Wednesday, 6:30-7:30 p.m. This is a wonderful times of prayer, fellowship and encouragement. At the church.
More Information
For more information on the food giveaway or any of our programs, call Shenalyn Page at 530-637-8878.