Welcome to the Lincoln Amazing Grace Seventh-Day Adventist Church! We know God has brought you here because He loves you and has an amazing plan for your life. 
Update! We are meeting together again for Sabbath worship services! To make sure everyone stays healthy, we are currently meeting outdoors at the Haas' home in Loomis. We would love to have you join us! If you can't join us in person, you can watch the live-stream of our service on our Facebook page at 9:30 a.m. Saturday morning. www.facebook.com/lincolnadventist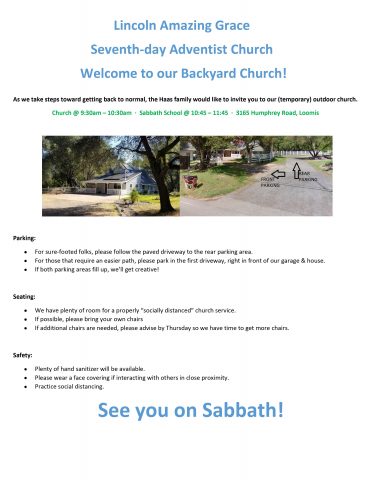 Food Giveaway - Every Monday from 12-1 at McBean Park. Drive-thru free food giveaway. Please enter through the D. St. entrance and stay in your cars. No ID required. You will be registered while waiting in line.  For more information, call Pastor Gresford Thomas at tel: 707-326-2806
Online Prayer Meetings - Tuesday, 7-7:30 p.m., and Wednesday, 7-8 p.m. These are wonderful times of prayer, fellowship and encouragement.
Revelation Bible Study - Unlock Revelation's end-time prophecies in this inductive Bible study. Meets every Friday nights from 6:30-7:30 p.m. online.